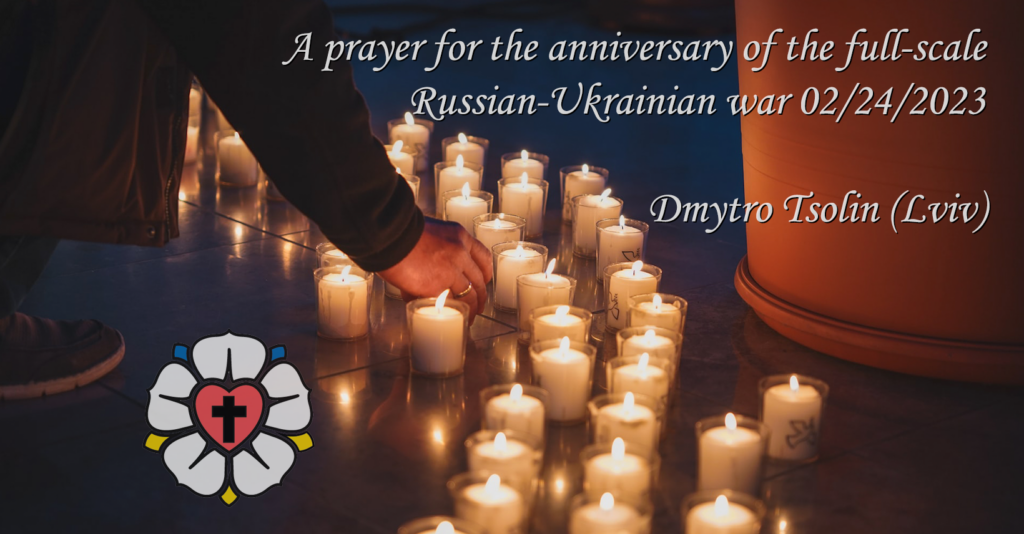 Almighty God, our Merciful Father!
We turn to You in times of pain and suffering.
A year of the war is over,
but our country still suffers from unceasing pain and harrowing wounds.
It was a year of loss and death.
Have mercy on us, Lord!
We beg You for peace.
Not for peace on the terms of the tyrant,
not for humiliating peace.
We beg You for fair peace for Ukraine.
For the kind of peace that You give in Jesus Christ to all who come to You with faith.
Look over us, God!
You created us, and in Your hands is the destiny of the whole world.
Your ways are beyond tracing out, and Your thoughts are unsearchable.
The time of this war for us is a time of darkness and gloom,
a time of hopes and expectations.
The time of prayers heard by You,
and the time of unanswered pleas.
The time when we saw You very close,
and the time when it seemed that You had left us.
But You are with us in Jesus Christ, who conquered sin and death.
We believe in it and trust in You.
Give us peace, Lord!
Amen.