On 18th of March, the bishop of GELCU Pavlo Shvarts took part in the prayer for peace in the Cathedral of Berlin together with the bishop of Evangelical Church of Berlin and Brandenburg Petra Bosse-Huber, the head of the Council of Christian Churches in Germany archpriest Constantin Radu Miron, and the bishop of Evangelical-Lutheran Church of Russia Dietrich Brauer.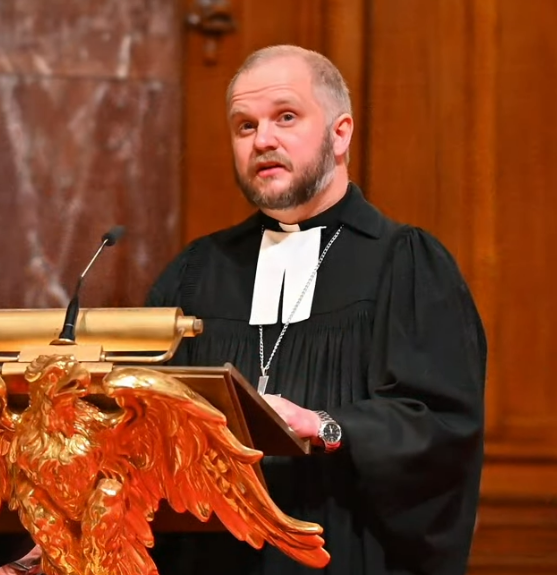 During the prayer Bishop Shvarts was given an opportunity to hold a short speech calling for building of a just peace for Ukraine:
"Glory to Jesus Christ!
Accept the words of gratitude from the people of Ukraine, the people suffering from war and fighting for its independence. As a nation, we are grateful to all those, who pray for us during these dire times. We are also grateful to those, who are trying to stop this war to the best of their ability. We are grateful to those, who by their works of mercy prove that they are Christians and help refugees from Ukraine.
Today we are gathered here to pray for peace that our country needs so much. But as it was mentioned before, not just our country but the whole of Europe. Our Lord Jesus Christ died on the cross to reconcile us to God, and in his Sermon on the Mount called us to be peacemakers.
But the peace that all of us are called to is a just peace. Where the victim has the right to be heard, аnd the aggressor must be called out by name, bear punishment, and be called to repentance. Only when we talk about a just peace and pray for it, can we indeed come to reconciliation between nations. Now is the time when we can only ask for this peace that all of us need so much.
And putting our hope on God Almighty, we trust that this peace comes, as well as the time when we all can move to the next step: learning to forgive with the help of God. May our Lord, Triune God, bless us and give us strength to be peacemakers. May he bless us to become defenders of the weak, and may he also bless us to become Christians not only in words, but also in works of mercy. May the peace of God dwell in our hearts! Amen!"
Video with English subtitles: