19–27 December 2021, St. Paul Evangelical-Lutheran Church in Odesa hosted a main cultural event of the season – the Christmas Market with a rich cultural and spiritual program.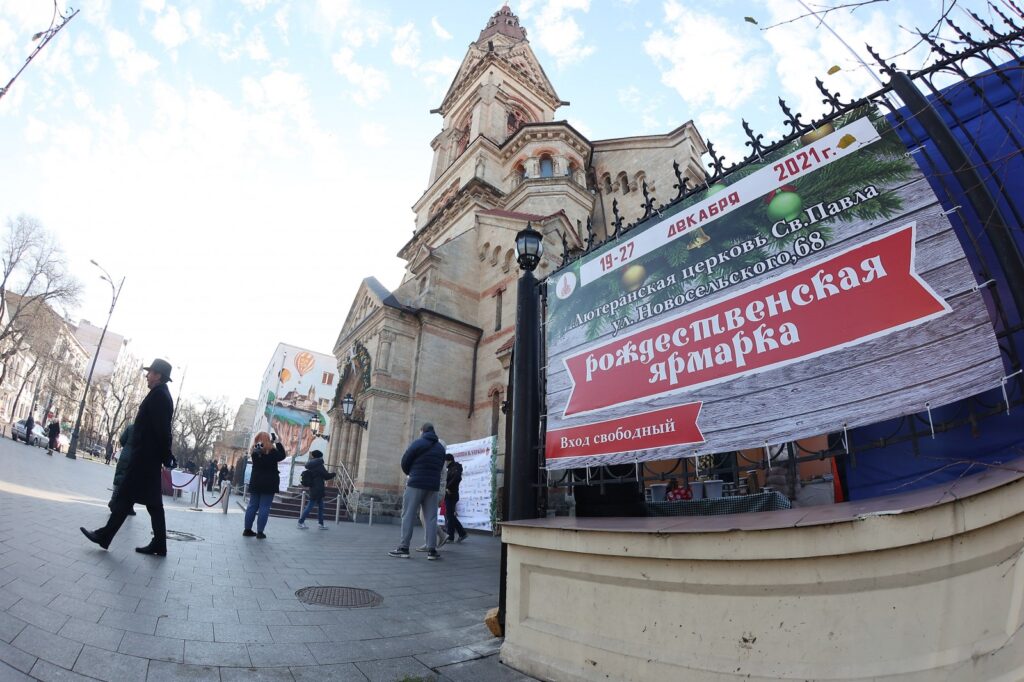 The opening of the Market took place on the 19th December, the fourth Sunday of Advent, after the festive service, during which the biggest stollen in Ukraine was consecrated. The stollen weighed 92 kg and was made in the GALATERIA confectionery at the initiative of the organization "German Youth in Odesa Region" with the support of the Department of Internal Development of Odesa City Council.
That same day representatives of the Ukrainian Book of Records verified the record. The money raised from the sale of the stollen slices will be used to install a memorial plaque to the first Odesa city gardener – Hans Herrmann, and to purchase bags of groceries for underprivileged pensioners.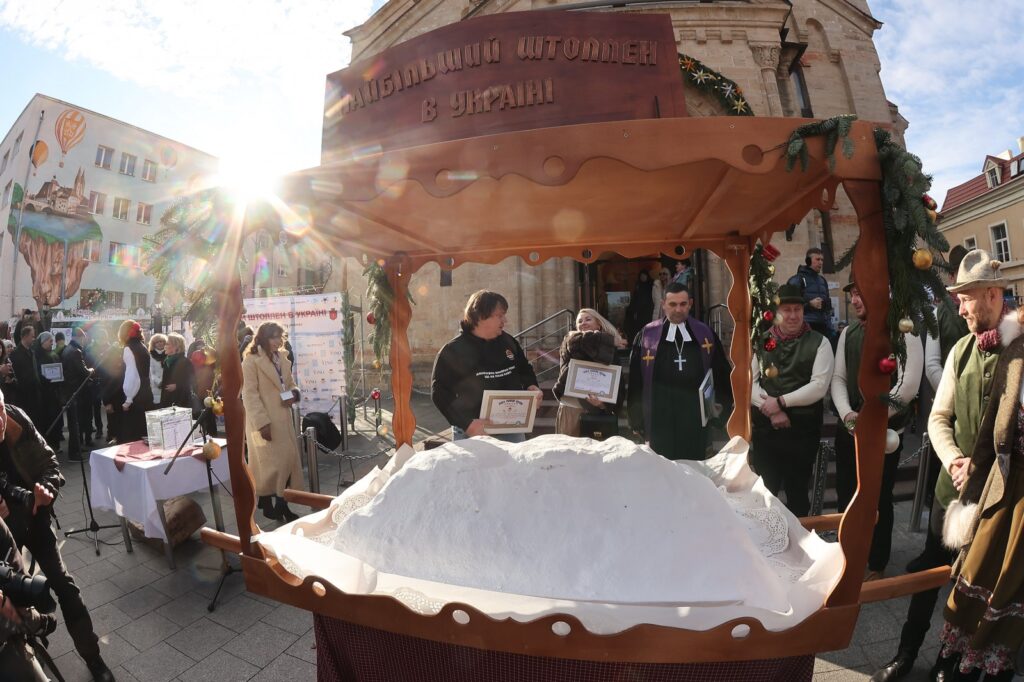 The visitors of the Market were also: the mayor of Odesa Hennadii Trukhanov, a representative of the Ministry of Foreign Affairs Sergii Orlov, a Honorary Consul of Germany in Odesa Oleksandr Kifak, and representatives of other diplomatic missions accredited in Odesa.
At the Market the visitors were presented with elements typically associated with a Christmas dinner (mulled wine, stollen, gingerbread) as well as traditional German street food (grilled sausages, craft cheeses, pretzels, assorted pastry) at affordable prices. The Market also offered various Christmas decorations (wreaths, Christmas tree decorations), handmade crafts (dolls, toys, decoupage crafts) and many other lovely things for sale.
Apart from that, the church hosted an art exhibition. The "art-courtyard" was a performance site for poets, bards, folk ensembles, fashion shows, workshops for children and adults, as well as for the "Art-Tree" contest organized by Violetta Veliieva.
The Market had a rich cultural program: almost every day the church hosted concerts of organ, classical, folk, and modern music.  Antonio Vivaldi' The Four Seasons concertos performed by an organist of St. Paul's Church Veronica Struk and a vocalist Olena Ierhiieva (soprano) had an outstanding success.
And of course, festive church services on 24th, 25th and 26th of December were an integral part of the event. A special Christmas Eve surprise for the congregation's members and guests was a performance of Ukrainian Naval Forces Choir, which had previously made an ambient video in the church premises.
The finances collected during the Market will be designated to create a permanent exhibition "Germans in Odesa". Despite taking serious anti-epidemic measures (the entrance only for individuals with vaccination certificates, previous infection certificate or a negative PCR- or antigen test), it was the largest Christmas Market in the modern history of the Lutheran church in Odesa.