In the beginning of August Berdiansk became a center of church life.
6 August 2021, our congregation in Berdiansk hosted a seminar for Sunday school teachers of German Evangelical-Lutheran Church of Ukraine. The workers of child centers and those, who plan to start ministry for children in congregations also participated.
Participants of the seminar learned to define aims of Bible lesson, discussed their structure and ways to unfold a biblical story to children. The practical part of the seminar was held on Saturday during one-day children's camp and at Sunday school lesson.
We thank the Church leadership and Agata Shvarts for organizing and conducting the seminar and interesting lessons with children.
7-8 August 2021, the bishop of GELCU Pavlo Shvarts and the president of the Synod of GELCU Oleksandr Gross visited our congregation. During the meeting with the Council of congregation we discussed current issues and perspectives for development of the congregation.
In the same days a recollection for congregations in Zaporizhzhia region took place. Apart from us, there were representatives of the Evangelical-Lutheran congregation of GELCU in Zaporizhzhia. This time was devoted to fellowship, praying together, lectures and discussions of topics based on Small Catechism and Holy Scripture:
1. Who am I? – our self-awareness as Christian believers, our Lutheran identity.
2. Who is Christ for me? – contemplation on the person of Jesus Christ as God and Human.
 3. What is the Church for me? – what is understood by this word (building, congregation and association of congregations, confession, the Universal Church). Our role, position, and responsibilities in a congregation. A concept of the Universal Priesthood.
We are grateful to bishop Shvarts for preparing interesting topics for conversation and learning aimed at ministering to our spiritual development.
The Sunday service on 8th August 2021 was an excellent end to events taking place in our congregation: GELCU seminar for Sunday school teachers, children's camp and Sunday school lesson, recollection for congregation in Zaporizhzhia region and visitation of our congregation by the Church leadership. It was blessed time and it was concluded by the Sacrament of Holy Communion that testifies to our unity, unity in Christ.
During the Sunday service, representatives of "Gloria" children's camp presented the bishop of GELCU Pavlo Shvarts with a memorable gift on the occasion of 20 years' anniversary of their work.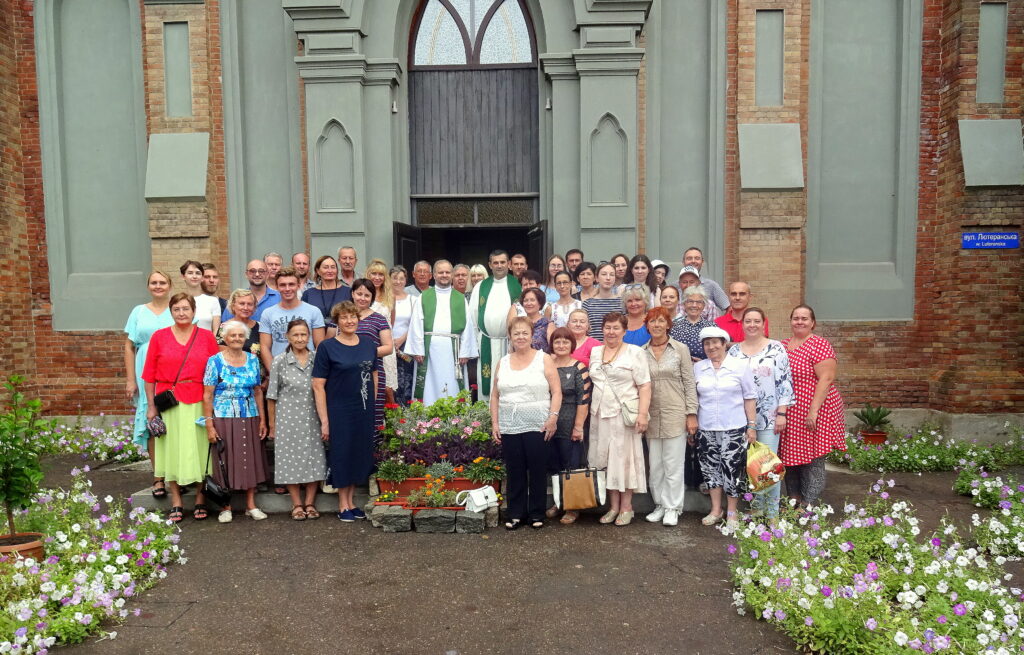 Our congregation was delighted to receive guests and we are looking forward to meeting them in the future. Praise be to God!
Yuriy Rykov, predicant